Tip 4 – problem solving
People visit websites because they are seeking a solution to something they are searching for – a product, service or information.
Focus on your visitors' problems and needs first and NOT on the features of your business. Many websites focus on their features and often, in a blatant attempt to self-promote, use exaggerated sensational claims and language. Use simple, straightforward, honest language and focus on the benefits your customers will get from your business. Your visitors are not really interested in you, they are only interested in solving their own problem.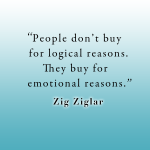 "People don't buy for logical reasons. They buy for emotional reasons" – Zig Ziglar.
Business to business sales is no different. Do you think business customers are more practical and won't listen to that kind of rubbish? You are wrong – think again! Everyone makes emotional decisions and then justifies them with logic. What are they really looking for? Majority of people want to save time & money, or they want to make money. How do they want to spend their extra time? With the family; playing golf or going to the beach? What do they want to spend the money on? A new house; investments; back into the business?
Remember the 8-second test we mentioned in Tip 2 Website attraction – what is this website about, what's in it for me, what should I do next. Your visitors don't really care about you, or your products or services. They only want to know if you can solve their problems.
Learn to solve your visitors' problems and you will find that you will start converting more traffic to sales.
HotsWots is a website design and development business with personal customer service that encompasses cutting edge design with technical expertise and an understanding of online marketing & SEO. If you would like us to check the 8-second rule on your website, we will do a FREE test for you. Contact us athttp://www.hotswots.com