Tip 2 – website attraction
Does your website pass the 8-second test?
On the internet you have maximum 8 seconds ONLY to capture your visitors' attention or they will be gone.  So as well as site speed your content needs to be able to grab your visitors fast.
Every website needs to answer the following questions in the first 8 seconds if their visitors are to stay, engage and take action. These are:
Why am I here

(i.e. – What is your website about?)

Why do I care

(i.e. – What's in it for me?)

What should I do now

(i.e. – A clear call to action)
There is no point having the most amazing creative design but no one can work out what your website is about. Believe me, no one will hang around long enough to find out. Your visitors need to know immediately what you do if they are going to stay longer than 2 seconds.
Then they will be interested in what's in it for them. Why are they going to buy from you or engage your services? What makes you different from the rest?
Then if you have what they want, you need to tell them what to do next. Buy now, call now, add to cart, leave your details etc. Make it easy for them and direct them where they need to go – and please make sure all your links actually work!
Generally, when people are reading a website they do not read every word on the page but rather they skim the page with their eyes moving from left to right, sweeping down the page generally to the area 'above the fold' first. 'Above the fold' is everything you can see on your computer screen before you have to scroll further down. So the information at the top of the page is ALWAYS the most important. Keep your language simple and easy to understand.
If you are writing an article, you start off with an introduction, build up to the points you want to make and finish with a conclusion.  Writing for websites is the complete opposite!
Start with your most important information or points at the top of your page (all critical information as we have mentioned above should appear above the fold, in other words what you see immediately before you start scrolling down the page!) and add less important information below. There is an art to writing well and there is an art to writing well for the internet and not everyone has it! If it is not one of your strengths, get a professional copywriter to write your content for you. The money will be well spent!
Your headings are the most important things on your page.
Headings,sub headings, bullet points, different size fonts, bold text or italic text and good quality, relevant photographs and diagrams all make it easier for your visitor to scan your page and decide if they are interested enough to stay on your site ……….. or leave QUICKLY!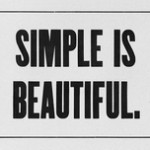 Long pages of unbroken text are too difficult to scan quickly for key information and will not keep your visitors on your site for long.
So remember, if you combine a stunning, simple design (and this can still be creative) with easy navigation (no more than 2 clicks to get anywhere) and keep in mind the 8-second test, you will find you your website is definitely on the right track.


HotsWots is a website design and development business with personal customer service that encompasses cutting edge design with technical expertise and an understanding of online marketing & SEO. If you would like us to check the 8-second rule on your website, we will do a FREE test for you. Contact us at http://www.hotswots.com