BACK
Education is key to ending poverty
The journey of a thousand miles begins with one step – Lao Tzu
We have always thought it would be nice to get involved in some kind of program to sponsor or give back in some way to the community. But, somehow we just never found the right program or the right motivation to get started.
Sometimes, it just takes something or someone special to inspire you and then there is no holding back. That 'special someone' just happened to be two young 18 year olds who volunteered in Faraja Orphanage near Arusha in their gap year from school. They saw a need for some of the children attending the orphanage school to get a better education and acted!
This is their story………..
After teaching in the orphanage school for about 5 weeks, the girls realised that the best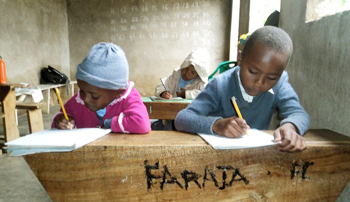 thing they could do for the children, was
to get them enrolled in an English Medium school. This would enable them to be able to continue school until completion, so the next 12 years or so in most cases, in a better quality school than the small orphanage school they were currently in. But, of course, this would cost money, so, they embarked on a campaign to get as many of the children as possible sponsored.
The girls researched as many of the local schools as possible, visiting them all and looking at their curriculums, remedial programs (for those who needed extra assistance) as well as placement availability. The school had to be accredited and have high quality programs including English.
So far, 10 children in all have been sponsored, and they all started in their new school in 2011.
School shoes
The story about buying school shoes for children is worth recounting.
There are no department stores or specialised shoe shops for measuring and having school shoes fitted. The girls drew around each child's feet on a piece of paper before heading off to the market. The stall with the shoes had to be rummaged around to try to match the right size and find a matching left and right shoe – no neatly stacked boxes in a storeroom! All part of the experience and each child did end up with some shoes!
Both the girls have also taken on the commitment to sponsor a child each even though they are still students themselves. We have been amazed and impressed at the tenacity and enthusiasm of the girls to get this project organised and up and running, as have many others.
HotsWots is committed to help the girls with their ongoing project and to help find sponsors for more children to have a good education.
2013 Update
The girls have just been back to visit the children and check on their progress. Several are receiving remedial assistance to 'catch up' to their age group and the rest are progressing well in their classes. All are on track to be able to sit exams to attend a good high school in future years. The total number of children now being sponsored has grown to 20.
If you are interested in helping a child achieve an education
and would like to be part of our project, please contact us. We welcome additional sponsors. It is not a huge financial commitment and we have been so inspired by these 2 young girls that we are looking into the possibility to expand the project further in the coming years.